Elektrisch poetsen
Tandartsen gaan er vanuit dat elektrisch poetsen beter is dan poetsen met een gewone handtandenborstel. Als je je tanden poetst met een elektrische borstel, maak je met één poetsbeurt net zoveel poetsbewegingen als met een handtandenborstel in een maand. Hierdoor haal je met een elektrische borstel dus ook veel meer tandplak weg dan met een gewone tandenborstel. En hoe meer tandplak je weghaalt, hoe minder kans je loopt dat het verkalkt tot tandsteen. Je voorkomt hiermee gaatjes of ontstoken tandvlees.
Als je handmatig poetst, heb je bovendien kans dat je te hard poetst. Dit is schadelijk voor je tandvlees. Je tandvlees kan zich gaan terugtrekken, waardoor je tandbeen bloot komt te liggen. Dit vergroot de kans op ontstekingen die leiden tot parodontitis. De kleine, vaak ronde kop van een elektrische borstel zorgt er bovendien voor dat ook lastig bereikbare plekken in het gebit beter schoon worden gehouden.
Vanuit tandheelkundig oogpunt heeft elektrisch poetsen eigenlijk geen nadelen. Sommige mensen vinden het trillen van de borstel, of het geluid ervan niet prettig, maar vaak is dat een kwestie van wennen. Gewone handtandenborstels zijn wel veel goedkoper dan elektrische borstels. Daarnaast zijn elektrische tandenborstels slecht voor het milieu.
Milieuaspecten
Bijna alle oplaadbare tandenborstels hebben een plastic behuizing en hebben ingebouwde, niet verwisselbare oplaadbare batterijen of een niet verwisselbare ingebouwde lithium-ion-accu. De ingebouwde batterijen in een elektrische tandenborstel hebben echter niet het eeuwig leven. Afhankelijk van de kwaliteit van de batterijen en het gebruik ervan, zullen deze na een X-aantal malen opladen toch versleten zijn. Omdat het meestal zonder ingewikkelde handgrepen niet mogelijk is de tandenborstel te openen en de batterijen te vervangen, worden er jaarlijks miljoenen elektrische tandenborstels in zijn geheel weggegooid.
Op YouTube zijn er wel handleidingen te vinden met behulp waarvan elektrische tandenborstels wel te openen zouden zijn. Deze methodes werken echter lang niet bij alle borstels. Als het je al lukt de behuizing zonder beschadigingen te openen, dan ben je nog niet klaar. De batterijen zitten namelijk vastgesoldeerd in het apparaat. Naast de juiste nieuwe oplaadbare batterijen heb je dus ook soldeervaardigheden nodig, een soldeerbout en soldeertin.
Wij hebben de proef op de som genomen en geprobeerd een elektrische tandenborstel van een drogisterijketen zonder schade te openen met behulp van YouTube handleidingen. Dit is niet gelukt. Uiteindelijk hebben wij de batterijen – die na 7 maanden al niet meer wilden opladen – met geweld moeten verwijderen met behulp van een ijzerzaag! Op deze manier worden consumenten bijna gedwongen elektrische tandenborstels weg te gooien. Het lijkt er op dat fabrikanten van elektrische tandenborstels er belang bij hebben dat hun apparaten worden weggegooid. Immers als mensen hun tandenborstel weggooien, zullen ze meestal weer een nieuwe kopen.
Elektrische tandenborstels met verwisselbare batterijen
Het ligt voor de hand dat er vraag is naar elektrische tandenborstels met verwisselbare batterijen. Waarom zou je immers je favoriete tandenborstel weggooien als deze nog helemaal goed is, inclusief de behuizing en het motortje? Weggooien is zonde, slecht voor je portemonnee en voor het milieu. Vreemd genoeg zijn elektrische tandenborstels met verwisselbare batterijen nauwelijks te vinden.
Oral-B AdvancePower DB4010
Na enig zoekwerk op Internet hebben wij uiteindelijk wel een elektrische tandenborstel gevonden met verwisselbare standaard AA (Penlite) batterijen, van het bekende merk Oral-B. Elektrische tandenborstels van Oral-B bestaan al sinds 1987. Het lijkt er een beetje op, dat de Oral-B AdvancePower DB4010 een beetje verborgen bestaan leidt. Op de website van Oral-B is deze tandenborstel niet te vinden en reclame lijkt er niet voor te worden gemaakt.
Toch is de Oral-B AdvancePower DB4010 elektrische tandenborstel overal te koop en niet duur. Wij namen de proef op de som en bestelden er gewoon 2 bij Bol.com.
De Oral-B AdvancePower DB4010 wordt in het buitenland en ook bij Amazon.nl ook wel verkocht onder de naam Oral-B Pro-Expert DB4010. Dit lijkt slechts een kwestie van labeling te zijn. Verschillen hebben wij niet kunnen ontdekken.
Onze ervaringen
Wij hebben de Oral-B AdvancePower DB4010 elektrische tandenborstel 7 maanden maanden uitgeprobeerd en onze ervaringen zijn erg positief. De reviews op Bol.com zijn goed; de borstel krijgt van de klanten 4,2 sterren op een schaal van 5. De door ons gekochte borstels draaiden 6 maanden krachtig en zonder storingen op de bijgeleverde batterijen (bij een gebruik van 1x per dag). Het aantal rotaties per minuut is vergelijkbaar of zelfs beter dan die van soortgelijke borstels die wel een oplaadstation hebben.
Als de bijgeleverde AA batterijen leeg zijn, kunnen deze makkelijk vervangen worden door nieuwe of oplaadbare batterijen. Vervangende opzetborsteltjes voor de Oral-B AdvancePower zijn overal te koop, omdat de gewone Oral-B borsteltjes èn de eigen merk opzetborsteltjes van het Kruidvat er op passen. De tandenborstel is compact en omdat er geen klassiek oplaadstation bij hoort, neemt deze borstel weinig ruimte in. Wij hebben er 2 geplaatst in een grote mok, maar er passen er nog meer bij.
Omdat er geen lader nodig is, zijn er voor deze elektrische tandenborstels ook geen stopcontacten in de badkamer nodig. De Oral-B AdvancePower DB4010 elektrische tandenborstel is ook erg praktisch op vakantie, omdat hij makkelijk mee te nemen is. De batterijen verwisselen tijdens je vakantie zal vaak niet nodig zijn. Eventueel kun je een kleine oplader voor AA en AAA batterijen meenemen, die je op een standaard USB-lader voor telefoons kunt aansluiten.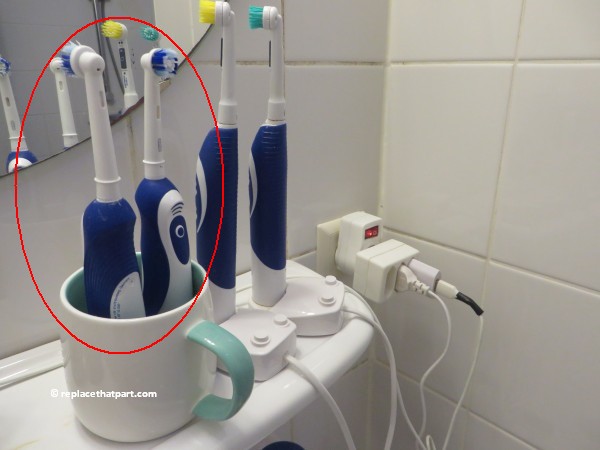 Nadelen
Wij zijn maar weinig nadelen tegengekomen. Uiteraard moeten de batterijen zo nu en dan vervangen worden, maar dit gaat makkelijk; er is alleen wat kracht voor nodig. De batterijendop zit stevig aan de onderzijde van het apparaat en er is een zwarte O-ring geplaatst. Dit is noodzakelijk om binnendringen van water en kalk te voorkomen en om te voorkomen dat er door trillingen storing ontstaat.
Daarnaast heeft deze elektrische tandenborstel geen timer. Er zijn verder geen geavanceerde (overbodige) technische snufjes, die je bij dure elektrische tandenborstel soms wel ziet. De de Oral-B AdvancePower is een goed werkende standaard basis-tandenborstel.
Hoe vervang je de batterijen?
Benodigdheden
Het verwisselen van de batterijen van de Oral-B AdvancePower DB4010 elektrische tandenborstel is eenvoudig en er is geen gereedschap voor nodig. Het enige dat nodig is zijn 2 nieuwe AA (Penlite) batterijen of 2 opgeladen oplaadbare (Ni-MH) batterijen en wat kracht in handen en vingers.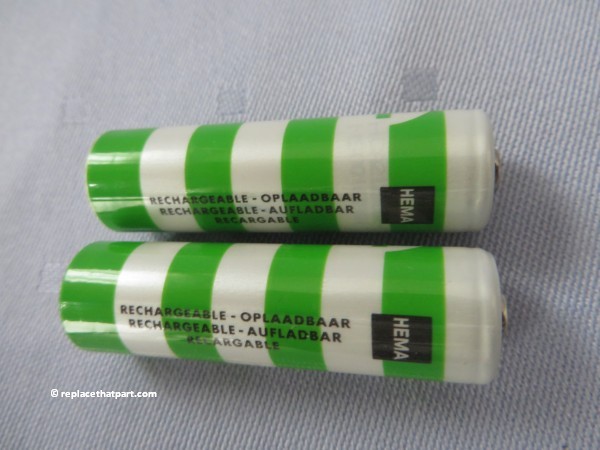 1. Neem de behuizing van de elektrische tandenborstel in één hand. Omdat er wat kracht nodig is, zal het vermoedelijk het beste zijn de borstel in de rechterhand te houden als je rechtshandig bent en in de linkerhand als je linkshandig bent.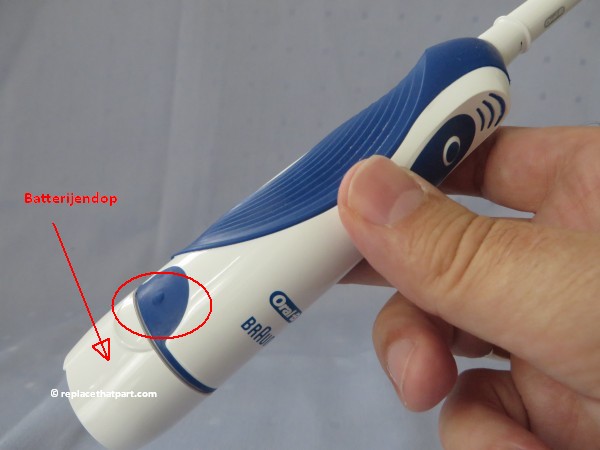 2. Druk de 2 halfronde blauwe rubber vlakken, aan de onderzijde (in het midden van de vlakken zit een puntje) krachtig en tegelijkertijd in. Hierdoor wordt de onderzijde van de plastic behuizing unlocked en kan de batterijendop van de onderzijde van de behuizing getrokken worden.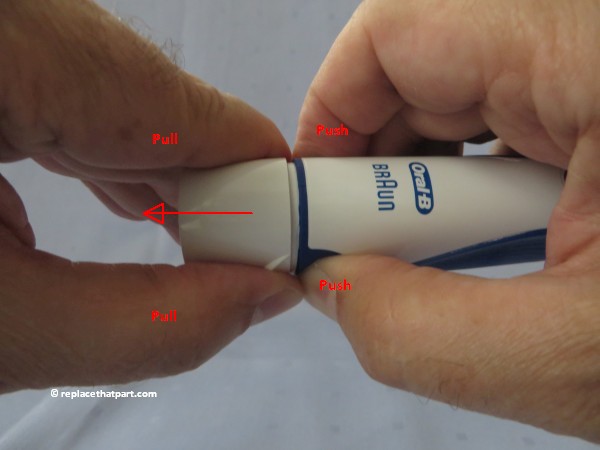 3. Trek nu, terwijl je de blauwe rubber vlakken stevig ingedrukt houdt, de plastic batterijendop los van de behuizing. Op de batterijendop bevinden zich 2 randjes waarachter je je vingers kunt plaatsen. Soms moet je een beetje wrikken.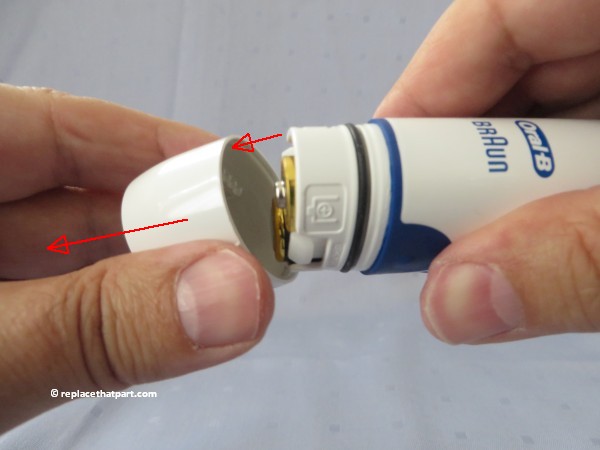 4. Je ziet nu hoe de standaard AA (Penlite) batterijen in het apparaat geplaatst zijn. Let op de plus- en de min. De vlakke zijde van de batterij is de (-) minzijde, de kant met het ronde metalen puntje, de (+) pluszijde. Zoals bij de meeste apparaten moeten de batterijen tegengesteld aan elkaar in de batterijhouder geplaatst worden. Op de witte onderzijde van de behuizing staat dit door middel van een tekeningetje aangegeven.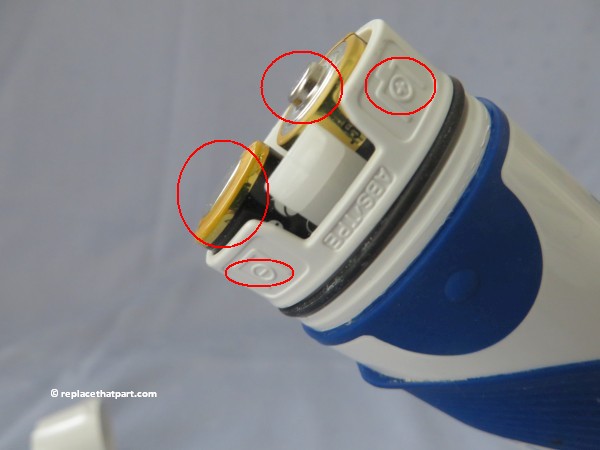 Haal nu de batterijen uit de behuizing. Dit gaat heel makkelijk. Ze glijden als het ware vanzelf uit het apparaat. vervang altijd beide batterijen tegelijkertijd, ook al lijkt het er op dat er één nog niet volledig leeg is. Hiermee voorkom je een verminderde werking van het apparaat of storing op korte termijn.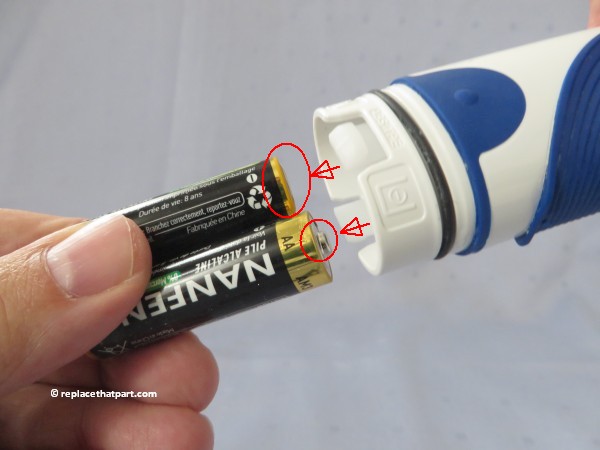 5. Plaats nu de nieuwe of opgeladen oplaadbare batterijen in het apparaat, conform het tekeningetje en op dezelfde manier als de oude batterijen in het apparaat geplaatst waren.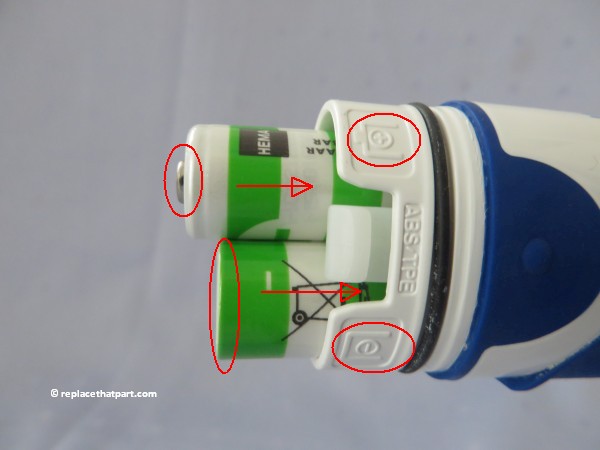 6. Plaats als laatste de batterijendop weer terug op de onderzijde van het apparaat. Dit zou vrij makkelijk moeten gaan en de dop hoort met een klik vast te klikken.
Mocht dit moeizaam gaan, probeer dan kalkresten te verwijderen die zich op en bij de zwarte O-ring kunnen bevinden. Dit kun je bijvoorbeeld doen met behulp van een oude gewone tandenborstel en wat afwasmiddel. Zorg er wel voor dat je de Oral-B AdvancePower DB4010 rechtop houdt, met de onderzijde naar beneden en dat er geen water in het apparaat komt. Maak de nog geopende onderzijde na het schoonmaken goed droog met keukenpapier.
Probeer eventueel ook eens de blauwe vlakken in te drukken, in principe zou dit niet nodig moeten zijn, maar misschien helpt het.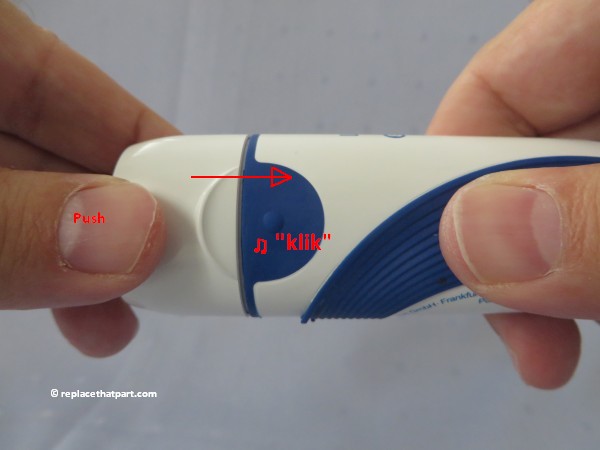 7. Test of de elektrische tandenborstel met de nieuwe batterijen correct werkt door de power-knop in te drukken.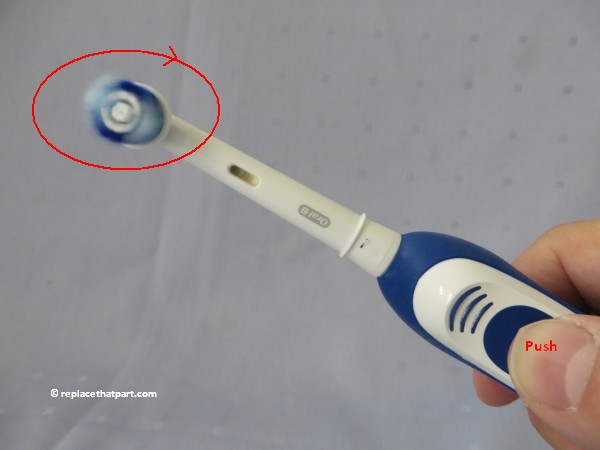 Dat is alles. Je vertrouwde Oral-B AdvancePower DB4010 elektrische tandenborstel kan nu weer maanden mee en je hoeft hem niet weg te gooien. Veel plezier ermee!