Make sure you purchase the right ink cartridges for your specific printer. Cartridges are not compatible between different brands, and often not within the same brand. HP recommends that you use original HP ink cartridges. XL (Extra Large) cartridges cost more but do provide better value in the long run. They will be able to print at least double the pages of a regular cartridge. Our advice is that if you print often, go with XL. However, ink can dry up. So if you are not a frequent printer, go with the regular cartridges. For regular usage, this printer is not designed to print using only the black cartridge when the color cartridges are out of ink. However, your printer is designed to let you print as long as possible when your cartridges start to run out of ink. When there is sufficient ink in the printhead, the printer will offer you the use of black ink only when one or more of the color cartridges are out of ink, and the use of color ink only when the black cartridge is out of ink.


Which ink cartridges do I need for my HP Officejet Pro 8100 Printer?



For your US, European and UK HP Officejet Pro 8100 Printer you need HP 950 Black and HP 951 Cyan/Magenta/Yellow cartridges. There are also Combo Savers (2 cartridges in one pack) available, like the HP 950XL Black and 951 Tri-color (Cyan, Magenta, Yellow) Combo Saver.
1. Make sure the printer is turned on.
2. Open the cartridge access door and the product lid. The carriage moves to the middle of the product. Wait until the carriage is idle and silent before proceeding.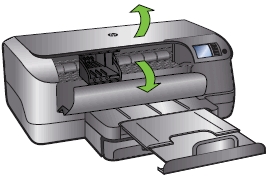 3. Push the old cartridge inward to release it, and then pull it toward you to remove it from its slot.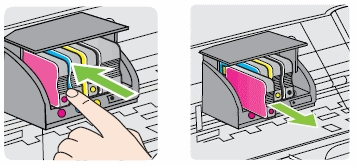 4. Remove the new ink cartridge from its packaging. Do NOT touch the electrical contacts and ink port.
5. Using the color-coded letters for help, slide the ink cartridge into the empty slot until it is securely installed in the slot. Do not lift the latch handle on the print carriage to install the ink cartridges. The latch must remain down to correctly install the ink cartridges.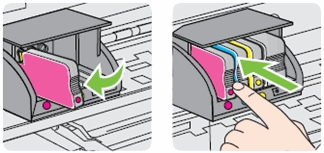 Make sure that you insert the ink cartridge into the slot that has the same colored letter as the color you are installing.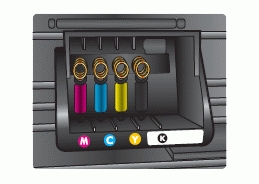 6. Repeat steps 1 through 5 for each ink cartridge you are replacing.
7. Close the product lid and the cartridge access door.
Align the printhead if necessary.
The printer automatically aligns the printhead during the initial setup. You might want to use this feature when the printer status page shows streaking or white lines through any of the blocks of color or if you are having print quality issues with your printouts. You can align the printhead from the printer's control panel, from the Toolbox (Windows) or HP Utility (OS X) and from the embedded web server (EWS).