Make sure you purchase the right ink cartridges for your specific printer and printer region or have your old ones refilled. Cartridges are not compatible between different brands, and often not within the same brand. HP often designs its inkjet hardware to use country-specific consumables. When you unbox a new HP inkjet printer and set it up, you install a set of ink tanks that ship with the printer. As you turn on the device and get ready to use it, an initialization sequence localizes it to the country associated with the ink cartridges you installed. HP recommends that you use original HP ink cartridges.
XL (Extra Large) cartridges cost more but do provide better value in the long run. They will be able to print at least double the pages of a regular cartridge. Our advice is that if you print often, go with XL. However, ink can dry up. So if you are not a frequent printer, go with the regular cartridges.
Ink level warnings and indicators provide estimates for planning purposes only. When you receive a low-ink warning message, consider having a replacement cartridge available to avoid possible printing delays. You do not need to replace cartridges until prompted to do so.
Which ink cartridges do I need for my HP Officejet Pro 8000 Printer Series?

For your US HP Officejet Pro 8000 Printer Series you need HP 940 Black (XL) and HP 940 Cyan/Magenta/Yellow cartridges. There are also Combo Packs (4 cartridges in one pack) available, like the HP 940XL Black Ink Cartridge and HP 940 Colors Standard Yield Cartridges Four Color Combo Pack.


For your European and UK HP Officejet Pro 8000 Printer Series you need HP 940 Black AND HP 940XL Cyan/Magenta/Yellow (XL) cartridges. There are also Combo Packs (4 cartridges in one pack) available, like the HP 940XL 4-pack High Yield Black/Cyan/Magenta/Yellow Original Ink Cartridges (C2N93AE). Check the price of HP 940 cartridges at Amazon.com .
Try Amazon's ink selector tool to find compatible ink cartridges for your printer.

Replace the ink cartridges
1. Turn the printer on by pressing the power button.
Remove the old cartridge
2. Gently pull open the ink cartridge cover.


3. Remove the ink cartridge that requires replacement by grasping it between your thumb and forefinger and pulling it firmly toward you.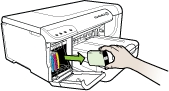 Insert a new cartridge
4. Remove the new ink cartridge from its package. Be careful to touch only the plastic on the cartridge. Do NOT touch the electrical contacts and ink port.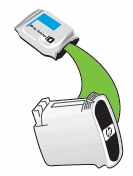 5. Align the cartridge with its color-coded slot and insert the cartridge into the slot. Press down firmly on the cartridge to ensure proper contact. It should snap into place.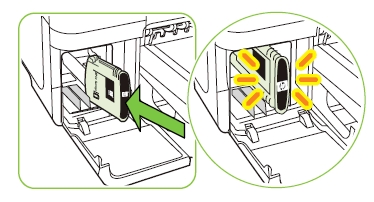 6. If more than one cartridge is low on ink, repeat the steps to insert the other cartridges.
7. Close the ink cartridge cover.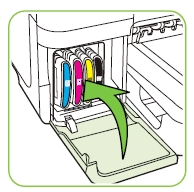 Align the printhead if necessary
Whenever you replace a printhead, the device automatically aligns the printheads to ensure the best print quality. However, if the appearance of your printed pages indicates that the printheads are misaligned, you can start the alignment process manually. You can align the printhead from the printer's Control Panel, from the Toolbox (Windows) or HP Utility (OS X), and from the Embedded Web server.