Make sure you purchase the right ink cartridges for your specific printer and printer region or have your old ones refilled. Cartridges are not compatible between different brands, and often not within the same brand. HP designs its inkjet hardware to use country-specific consumables. When you unbox a new HP inkjet printer and set it up, you install a set of ink tanks that ship with the printer. As you turn on the device and get ready to use it, an initialization sequence localizes it to the country associated with the ink cartridges you installed. HP recommends that you use Original HP ink cartridges. If one of the ink cartridges runs out of ink before you can replace it, you can still print with a single ink cartridge. Printing with one ink cartridge might be slower and the print quality might be affected. It is recommended to print with both ink cartridges. For borderless printing, the tri-color ink cartridge must be installed.


Which ink cartridges do I need for my HP Officejet 150 Mobile All-in-One Printer?

For your US HP Officejet 150 Mobile All-in-One Printer you need
HP 98 Black or HP 94 Black cartridges and HP 95 Tri-color or HP 97 Tri-color cartridges.



For your European or UK HP Officejet 150 Mobile All-in-One Printer you need HP 337 Black or HP 338 Black cartridges and HP 343 Tri-color or HP 344 Tri-color cartridges.
1. Remove the new ink cartridge from its package and then pull the colored tab to remove the protective film from the cartridge.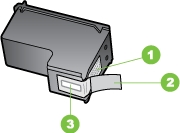 1. Copper-colored contacts
2. Plastic tape with pink pull tab (must be removed before installing)
3. Ink nozzles under tape
! Do not touch the copper-colored electrical contacts or the ink nozzles !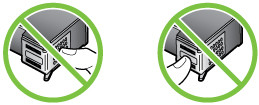 2. With the printer turned on, open the cartridge access door. Wait for the carriage to stop moving. This should take only a few seconds.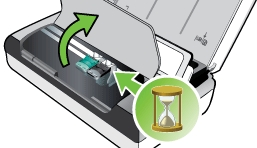 3. Lift the ink cartridge latch open and gently remove the ink cartridge from its cradle compartment.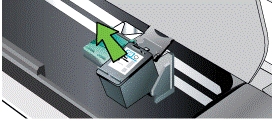 4. Insert the new ink cartridge into its cradle compartment at the same angle at which you removed the old ink cartridge.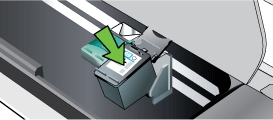 5. Close the ink cartridge latch. If the cartridge is inserted correctly, closing the latch gently pushes the cartridge into its cradle compartment. Press the latch to make sure it is seated flat on the cartridge.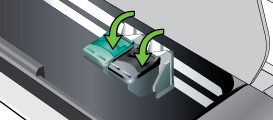 6. Close the cartridge access door.
7. Wait for the carriage to complete the ink cartridge initialization routine before using the printer.
8. Align the ink cartridges. Whenever you install a new ink cartridge, you should align the ink cartridges for the best possible print quality. If the printout is grainy, has stray dots, jagged edges, or the ink is bleeding into another color, you can realign them through Toolbox, or HP Utility (Mac OS). Load plain paper into the input tray before aligning the ink cartridges. An alignment page is printed during the alignment process.