Goed werkende verlichting op fietsen is van levensbelang. Het is dan ook erg belangrijk om de batterijen snel te vervangen als ze leeg of zwak zijn. Dit is een handleiding voor het Axa Riff Bagagedrager LED Achterlicht. Deze lamp is los te koop en wordt (buiten Nederland) ook wel onder de naam Basta Riff verkocht. Het vervangen van de batterijen is niet moeilijk; er is alleen een schroevendraaiertje voor nodig. Het is niet nodig om de hele LED Reflector te vervangen of te verwijderen. Het is ook niet nodig om de fiets op te takelen of op zijn kop te zetten.
Het Axa / Simson Riff Bagagedrager LED Achterlicht werkt met twee standaard alkaline batterijen, type AAA. Deze zijn kleiner dan de grotere AA "Penlight" variant. U kunt ook oplaadbare Ni-MH batterijen gebruiken. De levensduur van de batterijen is dan vermoedelijk korter.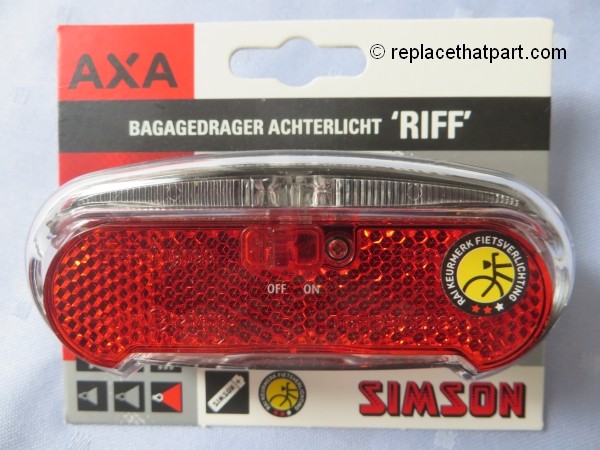 Benodigdheden
– 1 precisie schroevendraaier, kruiskop nummer 1
– 2 standaard AAA batterijen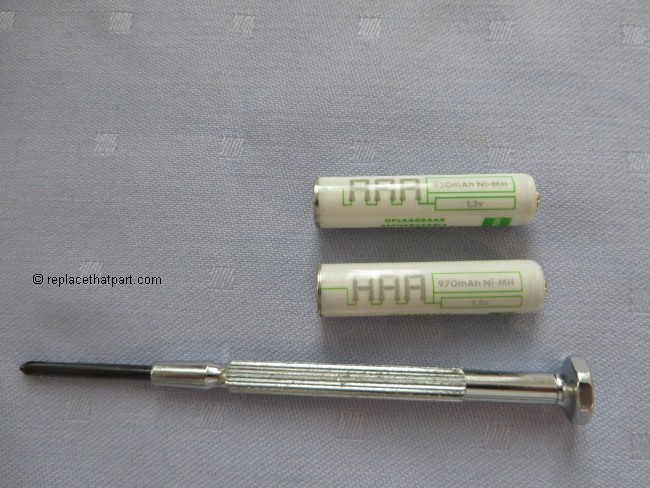 1. Lokaliseer het schroefje. Het achterlicht met de batterijen kan alleen zonder schade van de montageplaat gehaald worden door eerst één klein schroefje te verwijderen! Het schroefje zit een beetje verstopt onder de aan- uitschakelaar. Als de schakelaar zich in de aan- stand bevindt, is het schroefje niet zichtbaar. Dus als de batterijen leeg zijn, zult u het schakelaartje naar de uit- stand (naar links) moeten schuiven.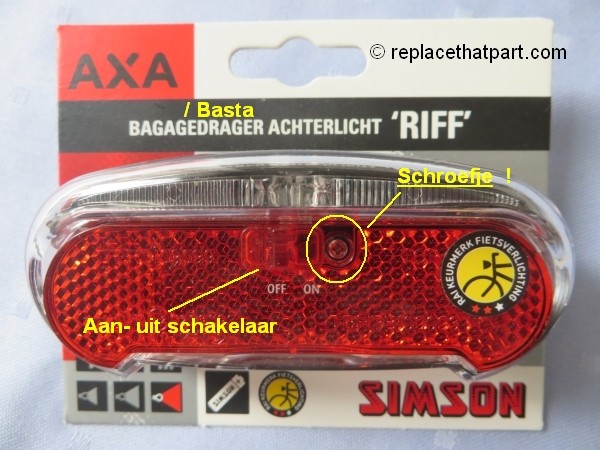 2. Gebruik de precisie schroevendraaier (kruiskop nummer 1) om het schroefje, die het achterlicht met de batterijen op zijn plaats houdt te verwijderen. Draai naar links, tegen de klok in. Er is maar één schroefje om te verwijderen. Leg de schroef apart en zorg dat u hem weer terug kunt vinden.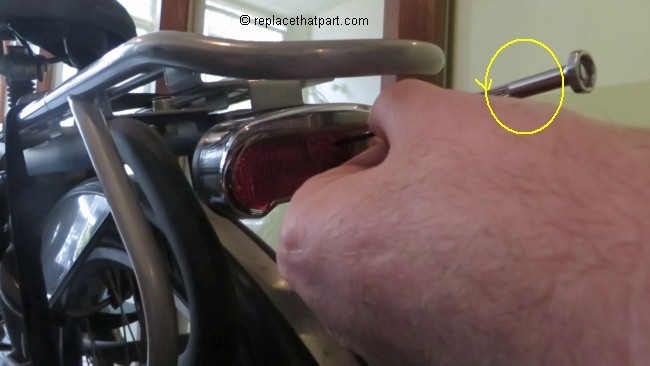 3. Trek nu het achterlicht met de batterijen van de zwarte montageplaat.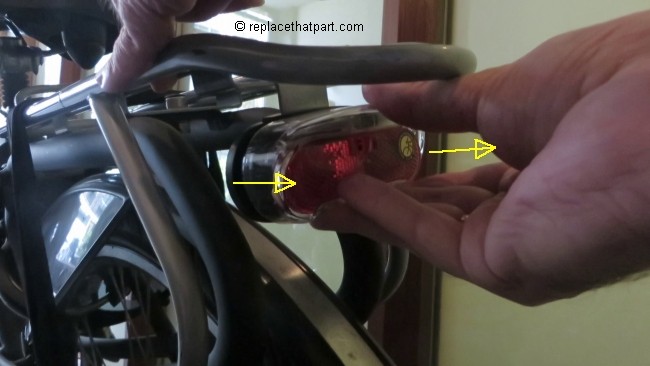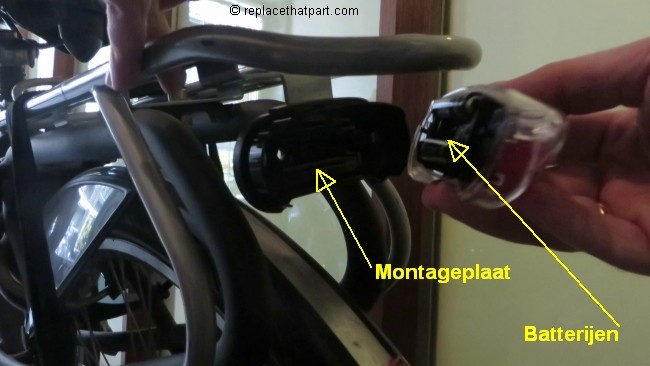 4. Verwijder de lege of zwakke AAA batterijen. Vervang altijd beide batterijen, ook als er één nog werkt.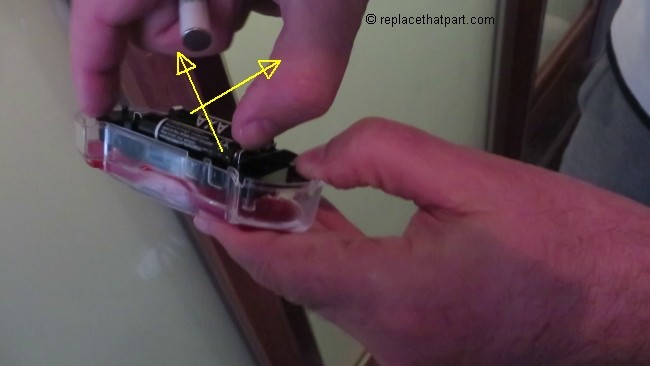 5. Plaats nu 2 nieuwe of opgeladen AAA batterijen in de batterijhouder. Let op dat u de batterijen op de juiste wijze plaatst met de plus- en minkant van de batterijen conform het tekeningetje in de batterijhouder.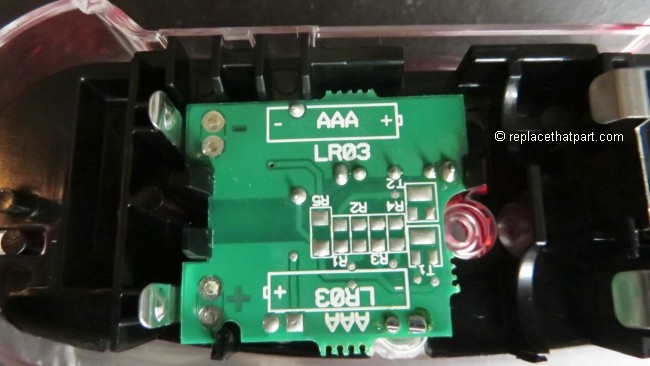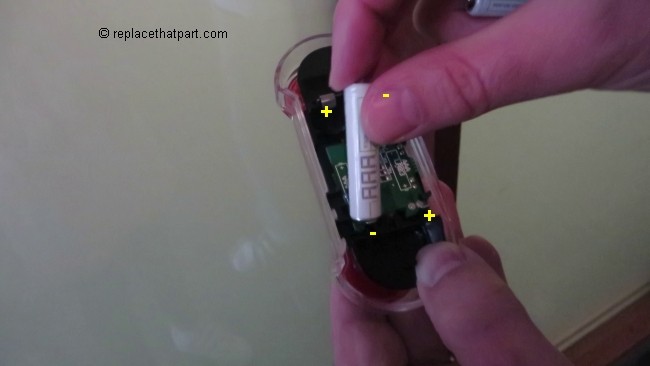 6. Plaats het achterlicht met de batterijen weer terug op de zwarte montageplaat. Dit moet heel makkelijk gaan. Er is geen kracht voor nodig.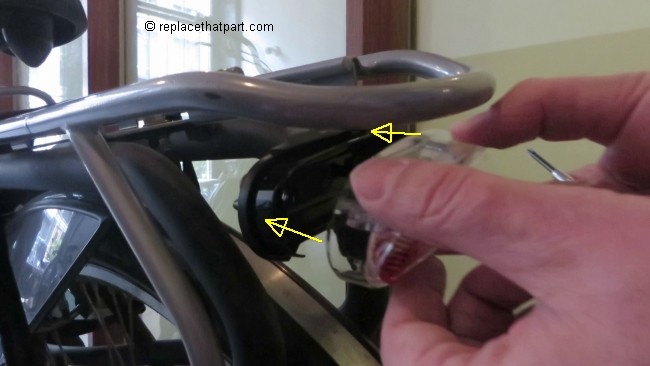 7. Draai het enkele schroefje weer vast. Draai hiervoor naar rechts, met de klok mee. Alles moet precies passen.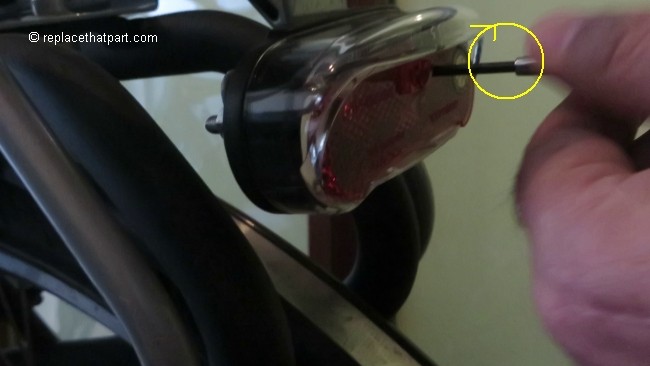 8. Schakel het achterlicht in. De aan- uitschakelaar bevindt zich aan de voorzijde, op de rode reflector. Als de knop naar rechts geschoven wordt, gaat de lamp aan. Test of de verlichting naar behoren werkt, ook als er aan de fiets geschud wordt en u het achterwiel laat stuiteren.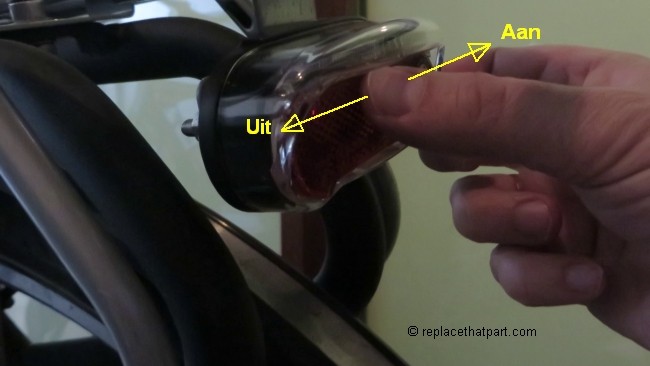 Dat is alles! Uw fiets is weer klaar voor veilig gebruik.